About Weaver Quarter Horses
Hi-Line Living - Weaver takes the reins at AQHA
story and photos by Havre Daily News/ Pam Burke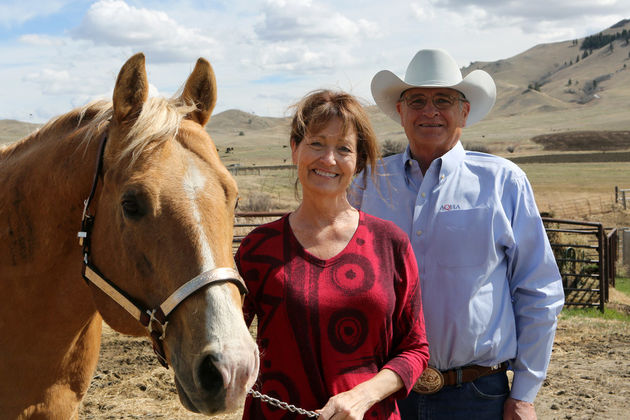 Big Sandy rancher and horse breeder Stan Weaver always wanted to have a production sale, but he never dreamed that his annual sales would lead to him taking the helm of the world's largest horse breed registry and membership organization.
Weaver, who has already served four years on the American Quarter Horse Association executive committee, was appointed committee president during the organization's annual meeting in March. Ironically, though, even at the helm of an organization with an international scope, it's likely he won't travel to as many continents as the quarter horses he's sold have reached.
"Never in my wildest dreams did I think it would do what it's done," Weaver said about the popularity of his ranch's annual horse sale and how it influenced his appointment to the AQHA executive committee.
William to Stan... the Weaver Family Story
The Weaver clan still carries on the prestigious birthright handed down to them from William and Phoebe Weaver who homesteaded in Montana in 1887. The infamous "A Standing X" brand was recorded one year later by William, a highly respected horse and cattleman that helped shape the Montana and Canadian horse racing community. Little did they know what their legacy would unfold to be.
Cowboy Tales - The Importance of a Brand
2004 Cowboy Artists of America Sale & Exhibition Chairman Steve Todd understands the importance of a brand. His two quarter horse fillies bear the XA brand, which has been used by the famous Weaver Ranch since 1888. "If you have been putting your brand on horses and cattle for over 100 years, then you must be doing something right," says Todd. "The Weaver brand stands for something -quality, versatile, well-bred, usin' kind of horses that trace back to the original sires of the quarter horse breed."
The AX Brand
BEYOND A MARK of ownership, the AX brand is part of Montana's rich cowboy heritage. From a homesteader's humble beginnings in 1888 through Stan and Nancy Weaver today, the family traces their agrarian pedigree back five generations. And with a little luck and a good plan, AX will continue to personify the Weavers for generations.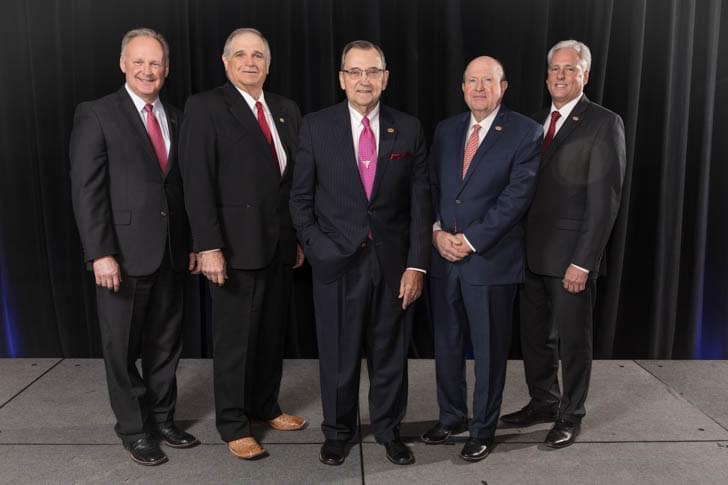 2018/ 2019 AQHA Executive Committee
President Dr. Jim Heird, First Vice President Stan Weaver, Second Vice President Butch Wise, Member Norman Luba, Member Dr. Scott Myers
Congratulations to the Tillards!
Congratulations to Troy Tillard, rider and Tim Tillard, owner of WEAVERS DIAMOND BAR, "Rowdy", who was just named 2015 Steer Roping AQHA/PRCA Horse of the Year. "Rowdy" was bred by Weaver Quarter Horses and was purchased as a weanling in 1999 at our annual production sale.

2014 MSU Family Business Awards
Weaver Cattle Co of Big Sandy was the recipient of the Family Business Award in the old business category (operating at least 50 years). The award was made during the Montana State University Jake Jabs College of Business & Entrepreneurship State Farm Insurance Family Business Day, October 10, 2014, in Bozeman, Montana.
Raising Horses in the Bears Paw

When Stan Weaver walks into his horse pastures, he knows the names of every broodmare. He can rattle off bloodlines, winnings, successful offspring, siblings—an impressive feat. For Weaver, it's all in a day's work of breeding top-notch horses on his ranch south of Havre. Walk into the pasture with him and his affection for the horses is apparent. They show their fondness, as well, wandering over to push a muzzle in his hand.
A Solid Ride
If there is one kind of horse that in the public mind represents the American Quarter Horse: It's the ranch horse, the horse of the cowboy. Many of the best of that kind come off ranches that are AQHA Ranching Heritage Breeders. Ranching Heritage Breeders embody the longevity, integrity and honesty of the ranching tradition. Members breed and raise the ranch-type horse, which remains at the core of AQHA and epitomizes the breed's versatility.
Inducted into the Montana Cowboy Hall of Fame
Elmer Weaver (1895 - 1952)
2013 Legacy Nomination District 4
Montana Cowboy Hall of Fame and Western Heritage Center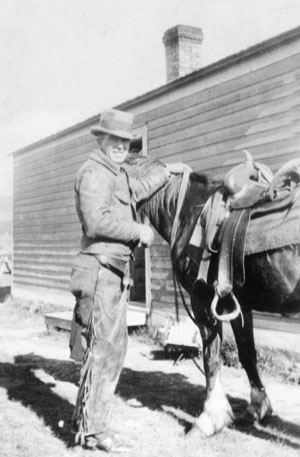 Elmer Weaver was born August 7, 1895, to William and Phoebe (Thornber) Weaver in Chinook, Montana. Elmer grew up around horses, and horses and ranching proved to be his major passions throughout life.
Elmer's father owned a saloon in Chinook and was a part of Montana's race horse community. His father and uncle both cowboyed in Montana in the open range days. Both rode with Charlie Russell and became good friends. Elmer visited Charlie several times when Charlie was living in Great Falls, Montana.
At the age of 16, Elmer was riding as many as 19 horses at a time for the public. His two older sisters also broke horses, and Elmer would handle the money in their business venture. At the age of 17, Elmer moved to Geraldine, Montana and bought a livery stable. Over the next few years he traded horses, purchased a cattle herd, and bought and leased land in the area for his cattle.
Trail Rider
As the interest in trail riding increases, so does the need for dependable and experienced trail horses. For many people, the search for a good horse can cover many miles and horse lovers can be very picky with both breed and personality. Some, however, simply know a good thing when they see it, or hear about it.
Reggie Knighten of Virginia wanted to buy a strong, experienced trail horse. He needed a horse he didn't have to train, but yet was not so old that he would only have it for a few years. Since Reggie had two artificial hips, he wanted a gentle horse that could comfortably maneuver the trail, but was easy to handle. Reggie found exactly what he was looking for at a ranch in Montana - almost 2,000 miles away.
Putting on a Ranch Sale
Putting on an auction can seem like a big chore. But for many AQHA Ranching Heritage Breeders, it's the best way to get their horses in the barns of new owners. Here are some factors to think about when you're deciding whether to put on a production sale. if your ranch has never put on a production sale, you're going to need some help. First off, you'll need an auctioneer who knows your market and can start you off with the right advice – even if that advice is not to have a sale.
Radio Interview with Stan Weaver
Diversifying your cattle production with horses
Quarter Horse Chat with Stan Weaver
About 30 miles from Big Sandy, Montana, snowy winters demand tough horses and tough cattle. Broodmares spend the winter outdoors, foaling outside in April then fattening up on summer pastures before the fall weaning. Then comes winter and the whole cycle starts over again. That's how it has been on Weaver Ranch since the 1880s, when the first Weavers entered the state. That's where Stan and Nancy Weaver ranch now, first teaching their three children and now their three grandchildren the same ways they were taught by their parents and grandparents.
Weaver Quarter Horses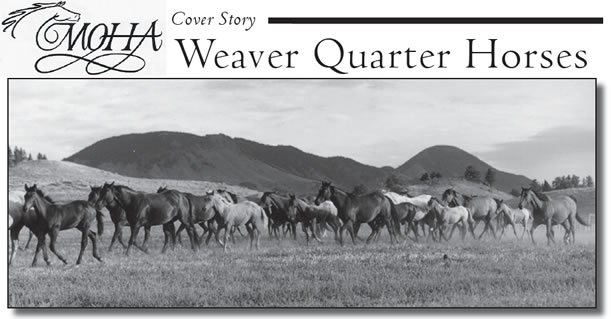 this article reprinted by permission of the MQHA, 2006
In 2005, the tenth production sale for Weaver Quarter Horses took place on the third Saturday in September. John Goggins of the Western Livestock Reporter writes, "This truly is one of the premier horse sales to be held anywhere in the United States. This family knows what it takes to produce the kind of horses with athletic ability, mind, structure and longevity."
Ranching with the Weaver Family
This Montana operation produces saddle horses for buyers across North America.
Printed with permission of Western Horseman and Ty Wyant, Copyright March 2005
Family Matters
by Aspen C. Emmett
Nestled in the rugged Montana mountains, the Weaver family caries on a longstanding tradition of family values and foundation Quarter Horse bloodlines.
Video Interview with Stan Weaver
~~ Working Ranch Horses Since 1888 ~~
~~ Proven Breeding Program Featuring Cow Horses With Speed, Good Bone, Feet and Withers ~~